For the second chapter of 'Road to Infinity War'…lets talk about the movie that introduced one of the most beloved characters in the MCU… THE INCREDIBLE HULK!
'The Incredible Hulk' is Marvel Studios second self financed film and its first film since 'Iron Man'-coming out in the same year. It wound up making a whopping $263,427,551 
at the worldwide box office during its run, lagging slightly behind its predecessor. However, the film was left at a major disadvantage because it was made close enough to a poorly received rendition of the Hulk-one that made half the money at the box office- that it was bound to be compared. Only 5 years prior to the release of 'The Incredible Hulk', a film directed by Ang Lee and starring Eric Bana called 'The Hulk' was released to poor reviews, due largely to everything from its subpar CGI to its slightly cheesy construction overall.
'The Incredible Hulk' certainly improved upon several aspects of its former and made a place in the grand scheme of the Marvel Cinematic Universe, albeit with little to contribute to the overall storyline but for a promising plot that was destined for obscurity-and a relocation of its main character. It has its strengths, but many weaknesses that I believe were greatly improved upon later on in the MCU. To be frank, the CGI was still not terribly well done.
THE TEAM:
'The Incredible Hulk' was directed by relative newcomer Louis Leterrier, who at the time was known best for directing the first two 'Transporter' films and soon become known for directing films like 'Clash of the Titans' and 'Now You See Me'-neither of which I cared for at all. Sorry. Leterrier did reportedly push for Mark Ruffalo to play our buddy Bruce Banner, but ultimately Marvel wanted to go with Edward Norton. And then…they changed their mind? We'll get back to that.
Zak Penn serves of the writer of this film-which comes as no surprise when you look at his history writing Marvel entities. He has written or contributed to everything from 'Elektra', 'X2: X-Men United', 'X3: The Last Stand', 'The Avengers' and several Marvel video games. He also wrote films like 'Inspector Gadget' and 'Behind Enemy Lines'. His background made for a solid story, and he clearly knew how to write for superheroes.
Craig Armstrong is responsible for the soundtrack to the film- and by the time that he was approached to do this soundtrack he had already made a name for himself working with Madonna and on films like 'Moulin Rouge' and 'Ray'. Since then, you have heard his work in films like 'Snowden' and 'The Great Gatsby'.
THE HERO:
Edward Norton was well into an established career that is chocked full of dark and twisted fiction. Everything from 'American History X' and 'Fight Club' to 'Red Dragon' and 'The Illusionist' was living proof that Norton knew how to play eccentric and enigmatic leads-but what about a mild mannered scientist? Well, as it turns out, we didn't get to see a whole lot of him playing Bruce Banner, the nerdy genius with a godly green copilot, and instead we saw him playing "skinny guy who runs an awful lot". To be fair, we do get to see him do at least one science experiment in his dark and dank apartment, but the decision was made to skip over the entirety of Banners pre-Hulk life.
We did get the chance to see a Banner that was put under a hell of a lot of pressure, back up against the wall, but one who still had hope in his heart that he would be 'normal' again someday. Because we mainly saw him on the run, it often felt like it was hard to make the connection that we were watching Bruce Banner throughout the film. I did not feel very invested in him because I did not get to see him as he was in his normal human life before I saw him as a shy fugitive and a behemoth. He spends an obscene amount of time using super antiquated "secure" technology to communicate with Tim Blake Nelsons character through one step short of MSN slang and being brutally bullied for some reason by everyone that he works with. After thats out of the way, there is an awful lot of running and making eye contact with Liv Tyler.
Don't get me wrong-he does a great job, and so does Liv Tyler- but aside from the tension between the two, I never felt passionately connected to either one. I wanted to love their love, but then they went and made Ty Burrell a pretty decent, freshly ditched boyfriend and I almost just wanted her to stay with him and let Bruce just go live in a third world country. I guess that it probably what happened. Never mind.
THE VILLAIN:
General Ross and his moustache was a really cool addition to this story, not necessarily because of his daughters involvement, but because he represents someone concrete who can be a thorn in the side of the Avengers and other such heroes in the future.
Hes that guy who has enough power to bring you down a peg-but he can do it all under the ospice of the government. He isn't quite a supervillain, but he is basically at the top of the totem pole in his position. He can (and does) hit them where it hurts eventually. In the case of Bruce Banner, he makes it nearly impossible for him to ever come home unless he wants to be a science experiment for the rest of his days. General Ross believes that Hulk is a creation of the United States government, therefore it is his property. He goes so far as to manufacture a super soldier of his very own to take him down, which seems like a pretty insane thing for a person to do, but apparently he gets to keep his job down the road…so I guess it wasn't a big deal?
Also, we MIGHT, MAYBE, POSSIBLY see Red Hulk someday?
Speaking of his super soldier, Tim Roth was a strong but very strange take on a huge Hulk villain- The Abomination. I never quite understand why he is so passionately motivated to destroy the Hulk, aside from the competitive, primal need to hunt- but even then, why allow yourself to be a guinea pig just to do so? He has no personal connection to the situation and yet he is overjoyed at the prospect of going up against a sentient brick wall? The obvious answer, of course, is that he was just plain crazy. The look in his eyes in most scenes is one that I can only describe as creepy.
One of those guys who gets to keep his job despite several registered complaints about death threats and intense, coffee and tobacco scented nose-to-nose confrontations. I couldn't tell if General Ross fully understood that he was missing a screw, therefore he was disposable, or if he sincerely thought that he was a valuable piece of his overall plan. Ross certainly went on to eat his mistakes when his pet turned into a 10 foot tall crocodile man- but again- to very few consequences. Perhaps it was all covered up as part of Bruce's immunity?
This barely qualified as a villain, but I SO wish that they had pursued 'The Leader' somewhere in a future film. Theres still time!
THE GOODS:
While it may sound like I mostly disliked this film, I really didn't. It was fairly exciting and it had a lot of great Hulk scenes to show off-but it landed in a time where Hulk was apparently advanced enough to identify his lover, but not yet advanced enough to communicate in any way but smashing. There were some great little jabs at the comics and the character-like the purchase of the purple pants and a bizarre, borrowed scene under a rock in the rain. It has a great cast and it brought up a lot of really interesting questions and possibilities-including, but not limited to:
-Can Bruce EVER have sex? Like, does Bruce Banner have to be celibate forever? Or does he just have angry sex all the time because thats how he has learned to control himself?
-Did Michael Bay cast the hot girl that worked at the plant with Bruce? Who was in charge of their HR department? That girl was being straight up preyed on!
-Does Stan Lee have superpowers now?
-Where the hell are Bruce's family, relatives, friends all this time? Does he not have any or have they all disowned him? It seemed so easy for him to just disappear off the planet.
-How many people died in this movie? It feels like a lot.
-Where was SHIELD hanging out while a huge, destructive, uncontrollable Jekyll/Hyde was running around the United States? Especially when there were TWO of them! This would have been a perfect opportunity to introduce him to SHIELD and gain a bit of recognition and trust with them before they come to bring him out of hiding in 'The Avengers'
-Will General Ross ever manufacture the Red Hulk serum, or become the titular character himself? (I had a strong feeling about some comments that were made in a few episodes of 'Jessica Jones' were eluding to it- but I could be reaching.)
-Will we EVER see 'The Leader' or Samuel Stern again?
– Was that Tim Roths actual sweat? He was sweating an awful lot.
Overall, this film does not stack up to something like 'Iron Man' nor does it fare well against a lot of what follows it, but it is certainly an improvement on its previous adaptations and it set up a good base for the character going forward. The most positive thing that it offers is growth for Bruce Banner. He flees his home, lives off the grid in a menial job, learns to work on his physical and mental self, tries to find a cure for the Hulk and fails, and eventually uses his 'other guy' to his advantage. He comes to accept his fate, he finally gains some literal and mental freedom back and with that, he finally gains some control. He leaves everything behind. Now he can go forward and keep a low profile
FOR NOW……….
POST CREDITS SCENE: This one is fairly short and to the point. General Ross is sitting at a bar, seemingly drowning his sorrows after a rough couple weeks of chasing monsters and alienating daughters, and a well dressed man enters the building. Its your friend and mine Tony Stark, and he has some shade to throw in his direction- scolding him for trying to continue the Super Soldier program that was "put on ice for a reason". God Tony, you're so clever. He puts on his business face and offers to help him out with his "problem" with one simple and brain exploding proposal. "What if I told you that we were putting a team together?"
"Who's we?"
You know!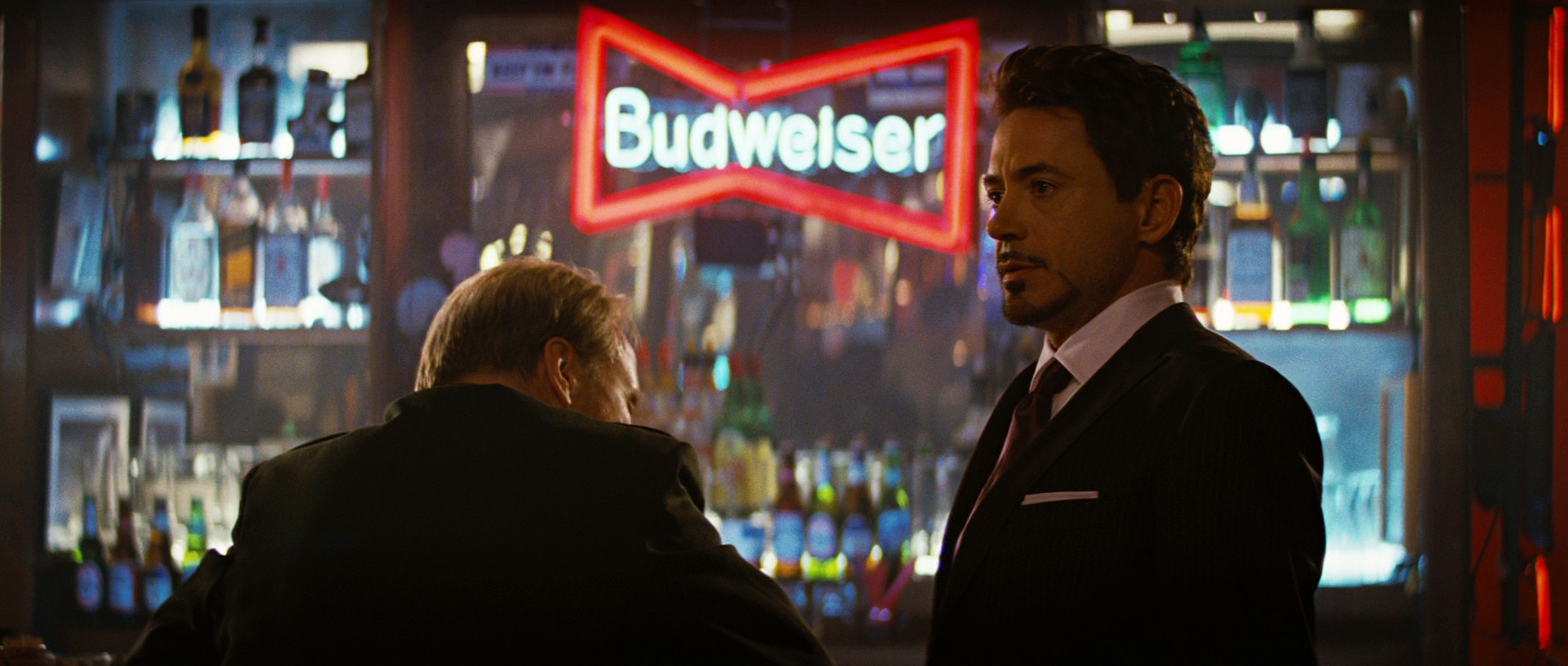 Coming up next..Iron Man 2!