The third film in the Thor trilogy takes a new spin on the dramatic Shakespearean Norse mythology surrounding the character-and the original "Ragnarok" story- and turns it into an 80s inspired rock and roll space epic that is one of the most unique in the Marvel Cinematic Universe.
Up next on Road to Infinity War, it is the most metal-meets-Monty Python Marvel movie of all time…THOR: RAGNAROK!
THE TEAM:
Director Taika Waititi is best known for his offbeat, independent films that present New Zealand humor and charm at its finest. Cult favorites like 'Eagle vs Shark', 'Flight of the Conchords' and 'What We Do in the Shadows' show great imagination and a strange whimsy that is entirely unique to Waititi. Before the film itself, he directed the set of 'Team Thor' shorts that teased Thors whereabouts and future in the MCU after we hadn't seen him on screen in awhile. These hilarious, sitcom-esque shorts gave us a sweet taste of the future of Thor and how he was making himself comfortable in the world.
The writing team for Ragnarok is a formidable gang of Marvel manpower made up of Eric Pearson, Craig Kyle and Christopher Jost. Their collective experience with Marvel entities is strong- having worked on everything from Marvels one shot stories to their many animated series over the past decade and even for the MCU itself (Christopher Yost returns from 'The Dark World').
Composer Mark Mothersbaugh has been working in the industry since the late 80s on projects like Pee Wees Playhouse, Sliders, Dawsons Creek, The Royal Tenenbaums, Rugrats, Blue Mountain State, The Lego Movie, House of Lies, Last Man on Earth- the list goes on!
'Thor: Ragnarok' became a massive success for Marvel due largely in part to its astoundingly retro, mesmerizing marketing and its beautifully baiting trailers, but also because it was Planet Hulk-meets-Ragnarok-meets-your favorite Marvel space acid trip. It brought in $853,977,126 at the worldwide box office
THE HERO:
THOR:
Thor has been through an awful lot over the past few years. He lost his brother-twice? Three times? He lost his mother due partly to his brother and apparently he has now lost his girlfriend- but not to death. Just your average God-human relationship issues. He has had to save planet Earth on multiple occasions, as well as saving the nine realms from plunging into darkness in 'Thor: The Dark World'. Since 'Age of Ultron' Thor has been traversing the galaxy in search of answers regarding his vision about the Infinity Stones. In 'Ragnarok' we learn that on his journey for answers he came across a path of death and destruction that led him to a face to face confrontation with Surtur- a Balrog demon looking creature made of fire and brimstone. Surtur warns Thor that the prophecy of Ragnarok-the end of Asgard- is coming, and that he cannot stop it. Thor removes his horns to prevent him from being reunited with the eternal flame and heads back to Asgard with his trophy. Movie over!
Back on Asgard, he quickly realizes that his brother has been masquerading as his father Odin-building shrines to his own memory and putting on very Shakespearean plays honoring his demise. They take a trip back to Earth to find the exiled Odin, who has been stripped of his Asgardian powers and now waits for his children to return so that he may finally die. He leaves them with loving last words and warns them of the impending arrival of their evil sister Hela- who can only return to Asgard once Odin has passed on. The loss of Odin would normally mean that Thor is the natural successor to the throne, but this earth shattering news means that someone else is coming to claim it- someone who is not going to make it a smooth transition.
When Hela knocks him out of bifrost after destroying Mjolnir, he crash lands on the planet Sakaar, where he is quickly scooped up as bounty by the beautiful alcoholic warrior known only as "Scrapper 142" by her employer- The Grandmaster. Thor is unwillingly recruited into the Contest of Champions and pitted against their greatest champion- who happens to be his AWOL Avengers amigo The Hulk. And so one of the greatest MCU gifs was born. With the help of an extremely confused Bruce Banner, Scrapper 142- a former Valkyrie of Asgard- and his flakey brother Loki, they escape the planet and head back to Asgard to take down Hela before she destroys everyone and everything that they know. In the end, he realizes that in order to stop her he must not stop Ragnarok- but he must allow it to happen in order for her reign to end with it. Asgard is lost, but not its people.
While Thor has always had that smug smirking of self satisfaction and that "man out of time" sense of what is and is not appropriate, he has never been funnier than he is in Ragnarok- due largely to the Waikiki effect on the movie itself. Chris Hemsworth shines as always in every emotional challenge- be it anger, grief, or playful fun. He can do it all. Thor has never been stronger as an on screen presence, but he also gets a rad new ability that we haven't seen before- in which his body becomes engulfed in lightning which he can wield and use as a force of power. For the first time, he truly encapsulated the name "Lord of Thunder". Sorry, "God of Thunder". He also encapsulates the role that has been laid out for him as King and ruler of Asgard- saving his entire civilization, finally getting a leg up on his brothers schemes, and making those hard decisions that Odin never could.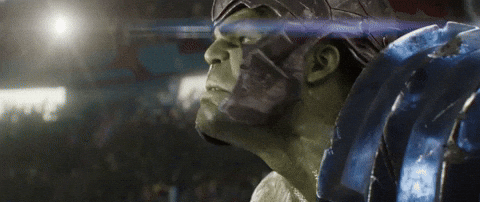 BRUCE BANNER/THE HULK:
It really sucks to know that we may never get another Hulk solo film- and that we never really got a Planet Hulk movie- but this was as close as it comes. Bruce has been gone from Earth for two years and we learn when he transforms back that he has been the Hulk this entire time. Hulk has advanced tremendously in his ability to communicate and understand, although his intelligence is still on par with that of a young child. He is happy as a clam being worshipped as a fighter in a land where nobody knows who Bruce Banner is and he has no desire to leave, even when his old friend Thor shows up. Its hard to say exactly how Valkyrie managed to get him from his crashed Quinjet into this battle arena situation, but he seems very content with his setup. It was probably one of those neck nodes that zap you to sleep, but I find it bizarre that this would take down the Hulk.
Bruce spends most of the film as the Hulk, but when he comes back down to being Bruce his mind seems very groggy from his time "in the trunk" for the past two years. He seems very confident that if he becomes Hulk again that he will not come back-yet he makes that ultimate sacrifice when the entire population of Asgard depends on him. He has a sweet fight scene with Helas gigantic reanimated dead dog- evil Clifford aka Fenris and goes so far as to take on Surtur when he is the size of a mountain. Much like Thor, he gets opportunity after opportunity to show off the comedic capacity of Hulk and the compassionate side of Bruce Banner- and how both can get him into real trouble.
THE VILLAIN
Hela makes quick and easy work of tearing Asgard down to the ground and even less time commanding her screen presence. Cate Blanchett is one of the most talented actresses on the planet and the choice to cast her as such a wretched and gothic villain was nothing short of perfection. She is dramatic, intense, gorgeous and vile while serving as an important piece of Asgards history and its future. She is like the ghost of Christmas past come to shatter their perfect golden world. We learn that Odins firstborn served as his "executioner" back in a time before he entertained the idea of diplomacy and peace among realms. He hid Asgards past so well that his children had no idea that they had an older sister, or that he had such a dark past as a conquerer. The demise of Asgard is rather poetic over the course of this movie, from the revelations that Hela comes with about their integrity and honor to the physical destruction of it. The past is gone, but a new world can now be created under Thors guidance.
Hela has very simple and unflappable motivations- to claim the throne which she is entitled to and to command Asgard in whatever way the she feels fit. She was cast out when her father could no longer control her and when their morals no longer aligned, so much like his sons- she has daddy issues that drive her. She longs for the old days where Asgard reigned supreme over all nine realms- and she aspires to conquer worlds far beyond the ones that they know. Her capabilities as the Goddess of Death are explored to an extent- she uses the Eternal Flame to resurrect her old army and her pet Fenris, and she conjures and tosses any size of dagger that she chooses. I have nagging suspicions that this character may very well translate into the Mistress of Death- a HUGE character in the Infinity Gauntlet story. The Mistress of Death is the reason for Thanos seeking out the Infinity Stones- to please her and to shape the cosmos to her liking. The timing doesn't quite work out, but its always possible!
We don't necessarily see her die, so you know the rules. She might not be dead for reals.
THE GOODS:
Thor:Ragnarok stands as one of the most unique and identifiable MCU movies to date. It takes huge risks and completely ignores standard formulas , instead opting for originality and widespread influences from realms of science fiction, ancient lore and the best of 80s cheese. While its underlying themes are dark, dramatic and sinister- the consistent comic relief, genuinely complicated relationships, vibrant palettes and brightly lit sets bring a film about death to life. This cast is overflowing with top notch dramatic actors, but additions like Jeff Goldblum as the Grandmaster and Taika Waititi as lovable pile of rocks Korg add a memorable goofy charm that reminds us not to take our beloved comic book movies too seriously. It is really, really silly, but silly is okay.
'Thor:Ragnarok' finds a great balance between tones, practical and manufactured visual impact, character development and good old fashioned fun. It rounds out the Thor trilogy with a huge bang and nearly destroys his entire family history while ushering him forth into a whole new existence. It further complicates Thors relationship with Loki but somehow clears the air at the same time, showing the tremendous growth and sincere confidence that Thor has found in his experiences. He is more independent than ever before and now he has the opportunity to dictate the future of himself, his people and the realms of which he protects.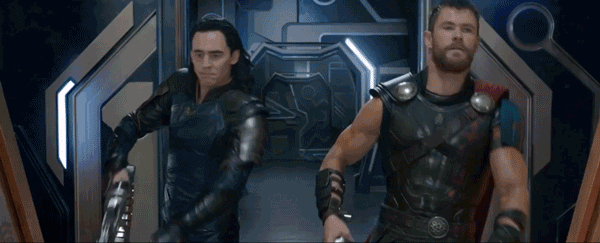 Bruce Banner has now seen worlds outside of his own and knows the terrifying truth about his alter ego- how consuming it is, how advanced it has become, and how badly it wants him out of the picture. He may still find a way to control his demon-or he may have to come to a compromise with it. Hulk is becoming more and more intelligent the longer that he exists as the Hulk, so we may very well see a Hulk someday that has every capability to exist in that state. We may also see Bruce trying his best to keep the Hulk at bay unless it is absolutely necessary- which I can only assume is coming down the pipeline very, very quickly.
POST CREDITS SCENE
Thor and Loki are having a friendly conversation aboard their getaway ship, floating through space towards their new destination. They are suddenly approached by a ship that makes their own look like a bug floating in the air. I wonder who it is!?
Shortly after, the Grandmaster spills out of what looks like an elaborate space portapotty, doing his best political routine to get out of trouble with the uprising of Sakaarian citizens that surround him.