When I first started watching 'Its Always Sunny in Philadelphia' I had a tough time marathon watching a show so loud, so obnoxious, and so ripe with vial personalities. As time went on and the show gained more confidence-I began to see what all the fuss was about. I felt a familiar and comforting edge to this wacky production.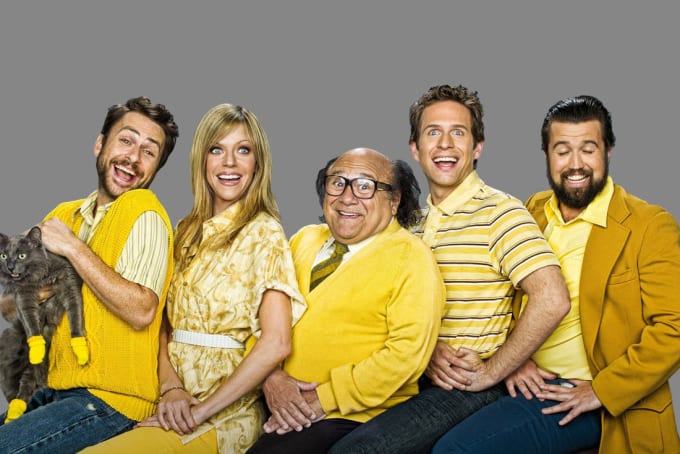 'Its Always Sunny' is well loved for its obtuse and often self contained episodes, its cast of top shelf narcissists and its expert ability to make something from a show that is really about nothing. Sound familiar?
The show centers on a group of friends- Dee and Dennis Reynolds, Charlie Kelly and Mac- "running" an irish pub in Philadelphia with the help of their eccentric patriarch and financier- Frank. Imagine if the gang from Seinfeld had children and those children decided to wallow in their despicable, drunken laziness together for the rest of their adult lives.
The Seinfeld comparison doesn't stop there either. Its not such a far stretch to compare the deranged Danny Devito to an aged George Costanza- formerly successful but brought down by his own transgressions. He wants to run the show at all times but he can't seem to keep himself away from the gang-the only family that he really has. He doesn't give a damn what anyone else thinks of him or his actions-whether it be his perverted views towards women, his disgusting and dirty lifestyle, or his strange friendship with Charlie.
Dennis-who believes himself to be some kind of lady killing genius- has a definite Jerry-esque quality to the way that he holds himself above his friends. (He might be an actual lady killer, as well. I'm only on season 10 so I don't know if they've confirmed that yet.) In reality, Dennis is arguably the most intelligent one in the gang-but the fact that he knows that makes his dynamic all the more arrogant. He believes that he is capable of mastering anything that he tries, but he is just as lazy and self involved as his friends and therefore his conquests are always a failure.  Although Mac is technically the Jerry Seinfeld of this show, his attempts to be the alpha male are often overpowered.
Mac and Charlie are just…really dumb. So dumb. They are the most dangerous brand of stupidity in which they have no self awareness whatsoever. Granted, Charlie often shows signs of being a genuinely good person, but he is rather psychotic. Mac simply refuses to admit that anything but his beliefs are valid. He is like a living embodiment of a twelve year old internet troll.  Both of these guys could pass for very inflated versions of Costanza-ism from their sheer lack of intelligence to their delusions of grandeur, but I would akin Charlies physical humor and business prowess to Kramer and his high pitched yelling fits to George.
Dee might not have herself together quite as much as Elaine ever did, but she certainly has her flighty and egocentric tendencies. She holds her own amongst the boys, though it is well established that she is their collective punching bag. She suffers from unrealistic expectations in all aspects of her life, assuming that she is deserving of the highest quality of companionship and lifestyle despite the fact that she is a horrible human being herself. Unless you're hot and rich, you are not spongeworthy. Though she often has storylines that would only be possible because she is a woman, over time she has been given more and more content to play with on the show. In fact, I would argue that she has done some of the most risky material. I can see Kaitlin Olsen herself going down the path of Julia Louis-Dreyfus in her future. Shes that good.
The gang spends every episode ruining the lives of the people around them- as the Seinfeld crew did with their romantic partners, business owners and friends. What really drives 'Its Always Sunny' into overdrive is the simple fact that its main characters have absolutely nothing to lose but their false senses of pride. Everyone (aside from Kramer) was regularly employed in fairly serious jobs in the Seinfeld gang, so the most dire of consequences normally centered around their employment. The 'Sunny' gang own very little aside from their pub- which they never actually seem to be working in- and it is still unclear how any of them have money at all. The stakes are low and there is very little to lose- making the obscene nature of the show completely plausible.
While Seinfeld touched on subjects like abortion, masturbation, birth control and the many facets of sex- 'Its Always Sunny in Philadelphia' has taken this cue and run it into the extreme. We've seen at least two characters in blackface, we've seen Dee have a baby for a transgender woman who Mac was in love with and still might be, and we've seen Frank and Dennis both have sex with the drug addicted waitress that Charlie obsessively stalks. Mac is homophobic but is quite possibly very gay. Dee dated and then dumped an army veteran. Everything that most shows might be afraid to approach- they knock you over the head with it-and it works. It is without fear. The same could have been said for Seinfeld in its time. It was edgy, a little silly and a portrait of white people problems.
All of this is pulled off by a cast and crew of amazing writers and improvisational wizards. If you're not already watching it, get on it.