AtIn 2015, Marvel Studios was riding a high from his previous Avengers films, Guardians of the Galaxy, and a highly successful Captain America film. They had hit a really solid stride. Next came the opportunity to introduce a character who has been long beloved by Marvel Comics fans-but with a modern interpretation of a classic hero.
Up next on Road to Infinity War…its ANT MAN!
'Ant Man' is yet another origin story for a character whos immediate environment is almost entirely removed from the circle of existing Marvel Cinematic Universe characters at this point in the franchise. However, he is a character who needed to see his day in the sun because of his massive impact and involvement in vital Marvel stories. Although this film went through periods of uncertainty where it was touched by several different creative visions, it made its way to a successful release. It brought in $519,311,965 at the worldwide box office, making it one of Marvels less successful films, but very impressive for a concept and character that is not very well known to the general public.
THE TEAM:
Director Peyton Reed was brought onto this project fairly late in its inception, but with experience dating back to the early 90s on shows like 'Back to the Future' 'The Weird Al Show' and 'Mr Show' it was obvious that he was a great choice for a comedy forward film. Though this style and magnitude of a production was fairly out of his wheelhouse at the time, he showed great enthusiasm and passion in taking it on, and it shows. Writer Edgar Wright was originally set to direct the film, but exited late into production. His influence, as well as the creative influence of his fellow story and screenplay writers Adam McKay, Joe Cornish and Paul Rudd is apparent in the movie. Wright and McKay especially have great fame and infamy in the world of "weird" movies at the helm of projects like, I dont know, every Simon Pegg and Nick Frost movie that you love, and a hell of a lot of Will Ferrell movies that you love. At this time especially, they were big names in the comedy game.
Composer Christophe Beck is another fantastic steal for Marvels roster of outstanding composers. He is responsible for over one hundred projects since the 90s, including both 'Buffy' and 'Angel', 'The Hangover' trilogy, 'The Muppets' and 'Edge of Tomorrow'-just to name a few.
THE HERO:
Scott Lang is just your average everyman with a masters in electrical engineering-turned-professional level thief who just happened to have the right motivation and skill set to fall into Hank Pyms very flimsy plans. This plan involved anonymously bribing a local woman to tell her friend about an old man with a safe, hoping that story would make its way to Scott and convince him to break into Pyms home and steal the Ant Man suit. I mean, it worked, but it was flimsy. He also had to assume that Scott would try on this bizarre looking "motorcycle suit" and discover exactly what it was. Perhaps he knew that his scientific mind would spot the unique features of the suit and that he wouldn't be able to resist investigating it.
Scott-played by member of the Hollywood vampire club Paul Rudd- is wildly imperfect and a complete smart ass, but he is ultimately a very good man. He wants to be a role model father and he wants redemption for his past, but living life as an ex convict proves to be incredibly difficult to turn around in his favor when nobody will trust or hire you. Baskin Robbins always finds out. Hank Pym sees his underlying desire and identifies with it- as he has his own obstacles to overcome in order to have a relationship with his daughter again. He sees the real potential in Scott.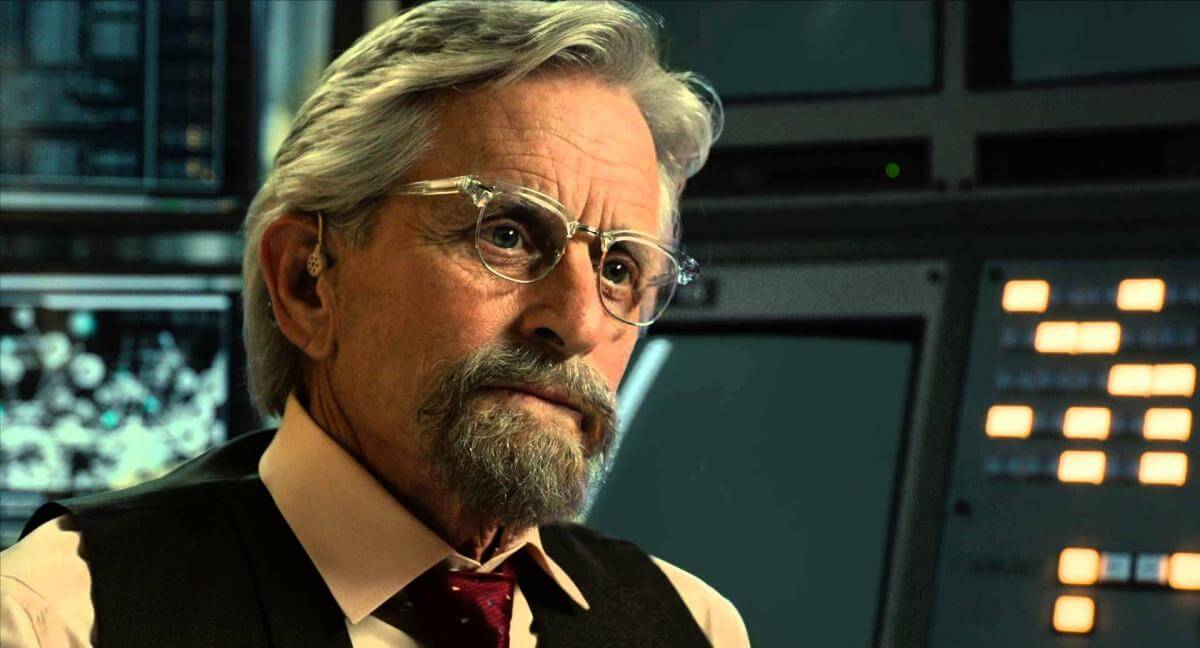 Scott Langs mentor and OG 'Ant Man' Hank Pym has ties to the origins of SHIELD, but he has been removed from the scenario for quite some time when this film begins-nearly four decades. He worked with Howard Stark, Peggy Carter and the like- so he most certainly had knowledge of Hydra back in 1989 when he exited Pym Tech and stole away with his Pym particle. Lets be honest, he made the right call. No doubt. He lost his wife Janet when his daughter Hope was very young, and he lost his relationship with her thereafter when he retreated within himself trying to "fix" things.
In my humble opinion, Hank Pym is one of the most endearing characters in Marvel Comics roster, so I did feel that it was a shame to pass him over for Scott Lang, but the timing just would not work with the existing storylines that are already in play. However, having an opportunity to bring Michael Douglas into the MCU using this character is still a huge win in the end. If you can get Douglas, you get Douglas. Hank still has plenty of time to integrate himself into the future of the MCU- but if he ever expands past his close circle remains to be seen. He specifically states to Scott that he wanted to keep his tech out of the hands of Howard Stark- so he may not be open to offering up this technology, or anything at all, to the Avengers or the government. While Scott has willingly become part of the superhero entourage, Hank may remain in the background acting as the "man in the chair" for Scott and Hope in the future. He confides in his daughter that he has spent the last four decades researching the Quantum realm with hope that he will be able to bring back his long lost wife-Janet. The groundbreaking discovery that Scott makes in regards to coming back from the Quantum realm is bound to completely change Hanks research and to put a new fuel on his fire.
THE VILLAIN
The superhero origin story formula is well at work in 'Ant Man'-as it is in several other films like it. In order to become a unique and dynamic hero, first you must defeat the evil version of yourself. That is exactly what happens with the obtusely sinister Darren Cross- who has some really severe daddy issues with his former mentor Hank Pym and essentially lets it poison his brain- both metaphorically and literally. He comes across Pyms 'Ant Man' suit and shrinking technology somehow, and he decides to maliciously use it to make a huge profit by selling it to the highest bidder- namely any military or terrorist organization who can afford it-like Hydra. Although we don't see it ahead of the films climax, Hope eludes that Cross has been intimately experimenting with the Yellowjacket suit, and that it is affecting his mental state.
Cross is out to completely wipe Hank Pym off the planet and to take credit for his most outstanding discovery as a way of getting back at him for "pushing him away" like he did to Hope. He accomplishes his goal of replicating Hank's technology and a similar particle, AND somehow figures out Hanks entire plan involving Scott, Hope and their entourage of ants. But as all one-off villains do, he ultimately loses the majority of his work and his life when his sale goes south and he goes rogue. I mean, threatening Scott Langs young daughter? Rookie mistake. Just because you're bald doesn't make you Lex Luthor.
But seriously? Good riddance. Ya boring. And you killed Antony.
THE UPS AND DOWNS
'Ant Man' has a hell of a lot of positive aspects to it. For starters, the excellent visual effects that were absolutely necessary to pull this concept off. A movie about a man who shrinks down to the size of an insect was never going to work unless they could make it look as realistic as possible-and they did that. The ants looked excellent and the way that they make great fun out of this otherwise bizarre concept was very well done. The way that they zoomed in on an epic fight only to show us how very insignificant it was from a distance made for a few very memorable scenes- whether it be inside of a childrens toy train set or inside of a briefcase. The suit is really badass as well and it looks great on camera. The overall comedic, but lovable take on this character and story-which screams Edgar Wright- was well placed in the hands of comedy veteran Paul Rudd and it should be no surprise to anyone that the fantastic Michael Pena all but stole the show as his fast talking, overexcited partner-in-crime Luis.
Back it up. Just back it up. Back it up. Baaaack it up.
Now that Hope Pym knows the truth about her mother and why her father drew away from her at such a young age, she is ready to heal their relationship. Hank has been wildly overprotective of Hope since losing her mother, but he now knows how strong that she has become. Her "woman in power" haircut is evidence of this. As is her conviction. The relationship between Hank and Hope is likely to become more and more important in the future of the 'Ant Man' story, as she has finally been given wings. Literally. At the very end of this film, Hank presents Hope with a suit that was made for her mother, Janet, and she could not be more elated to assume the identity that her mother made so significant. The Wasp. (Ahhhhhh!)
On the flip side, there was certainly a level of weakness to 'Ant Man' that would have benefited greatly from further insight into Hanks past- but we may still see that. The story felt a bit rushed along due to how quickly the threat from Cross was coming at them, and things fell into place rather well despite the time constraints. Cross managed to perfect his particle really, really quickly and Scott learned how to maneuver in his suit and communicate with ants very, very quickly. I'm nitpicking of course, but there was definitely something about this movie that didn't quite hold up to its predecessors. Perhaps it was because it was so contained, perhaps it was the cookie cutter villain, or maybe it was the pacing, OR maybe it was the fact that this film changed hands over the course of its production.
Whatever the case, 'Ant Man' himself has a bright future in the Marvel Cinematic Universe and I am overjoyed that he was introduced.
POST CREDITS SCENE:
I already mentioned Hope Pym being presented with the Wasp suit because I got excited, but there was one extra post credits scene that linked this film into the MCU and got me salivating for the next movie, one that I had been dying for since I heard about its potential realization…Civil War. I still squeal a little inside when I hear that.
In this scene, an exhausted Bucky Barnes is in a warehouse with Sam Wilson and Steve Rogers. There is mention of the "Accords" and the two discuss that they cannot tell Tony about finding Bucky. When Steve suggests that they may be alone in their mission, Sam offers the idea that he has someone who may be able to help- maybe someone who he fought at the Avengers facility, perhaps?