I haven't blogged in awhile, so in the spirit of Christmas, I am starting a 12 day series called "12 Days of Christmas Specials", listing my 12 favorite Christmas episodes of my favorite shows-in no particular order.
So…..on the 12th day of Christmas I watched on my TV
The first Christmas on Community!
'Comparative Religion' is one of the many gems in the Community lineup, and has gone down in history as one of my favorite Christmas specials of all time. I always say that this show is the physical embodiment of the internet, and this one perfectly parodies how modern culture is trying so very hard to "shove its PC-ness down our throats" while those who still value things like good old fashion holidays and traditions are left feeling like they need to change with the times.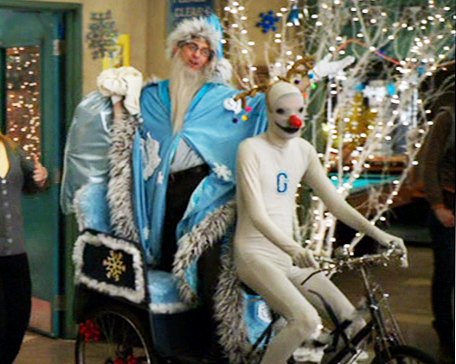 The Dean takes on the moniker of "non denominational Mr Winter" in an attempt to focus on a secular holiday celebration at Greendale. Meanwhile, the study group brings their wealth of cultural backgrounds to the very Christian Shirleys Christmas party while she desperately tries to get her friends into the "real" holiday spirit. Jeff comes to Abeds defence when a hilarious bully picks a fight with him, but Shirley threatens to ban Jeff from her party if he fights on Christmas (its December 10th). As usual, Shirley spends a lot of her time guilting her friends for not following her beliefs, while they question the validity of a religion that judges others so heavily. In the end, she comes to terms with the idea that our differences should not stop us from spending joyful time together. The group realizes that religion is not something worth talking about among people who want to get along.
Throw in a choreographed fight scene and a slew of pop culture references and you end up with a very non traditional but thoughtful Christmas special that teaches us that the true meaning of Christmas is spending time with people you love.
Ohh Christmas Troy, Oh Christmas Troooooy