Movies
Arguably the biggest piece of nerd news this week came from our friends at DC Entertainment. One big question has been floating around for the past few months: WHAT IS AQUAMAN GOING TO LOOK LIKE!?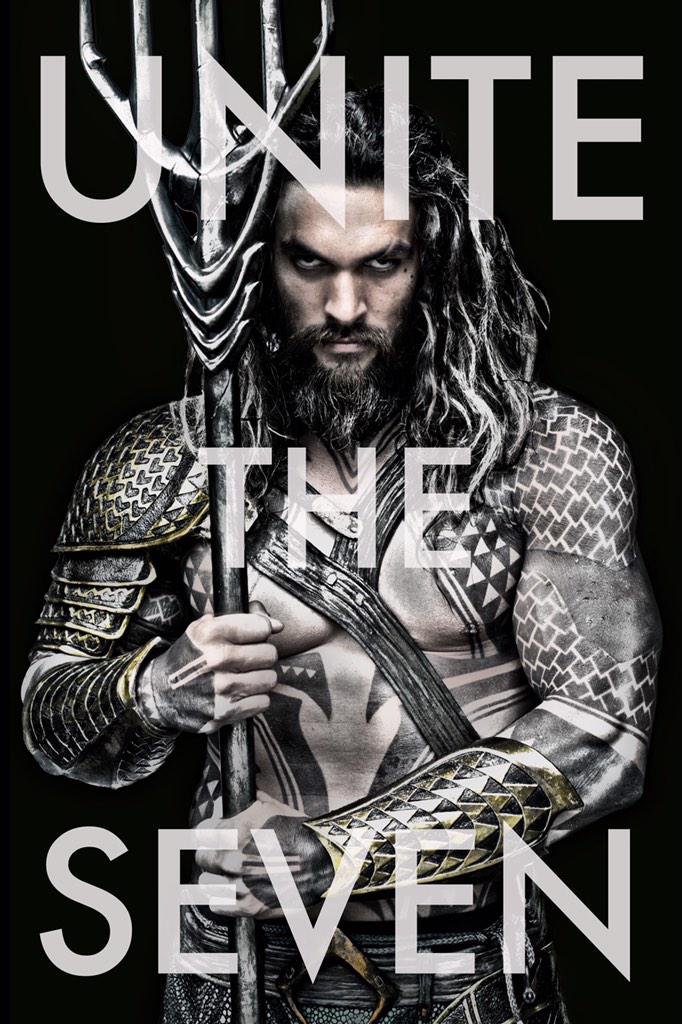 Like a glorious, wet seaman.
Zach Snyder tweeted out this super macho, Drogo-esque photo of Jason Momoa, confirming that we are getting an Aquaman who is very Poseidon in nature and far less-shall we say-wimpy than anticipated. I am torn about the character design. A part of me is mesmerized with how badass the character design is, but another part of me was hoping for something a bit more reminiscent of comic book Aquaman. When a lot of people think about Aquaman-myself included-they automatically picture a Ken doll dressed in a brightly adorned wet suit, riding dolphins.
Hey, just like this!
Though there have been adaptations where he is bearded and Viking-like, I wouldn't mind so much if they sprinkled in touches of "pretty boy" Aquaman-which all but went out the door when they cast the dark, burly Momoa. A little color in the suit and a bit more blonde in the hair would have been just enough to serve the loyal fan base who is likely to tear this kind of thing apart. In this instance, they seem to have made Aquaman look like Momoa, and not the other way around. Ultimately, I think that he looks awesome and I'm looking forward to seeing him in action.
---
JJ Abrams production company 'Bad Robot' has extended their existing deal with Paramount Pictures for another three years. The partnership has been ongoing since 2006 and has brought us such great films as 'Super 8', 'Star Trek' and 'Star Trek: Into Darkness' and the upcoming 'Star Wars: The Force Awakens' and 'Mission Impossible V'. They are in talks to produce a film together about legendary inventor Thomas Edison.
---
Trailers out this week include: Kill Me Three Times, starring Simon Pegg and a beautiful handlebar moustache, Run All Night starring Liam Neeson (as an assassin. Surprise!) and Ed Harris, and a glorious TV spot for Pixar's upcoming 'Inside Out'
---
Casting Rumours and News:
Javier Bardem has signed on to star as the villain-Captain Salazar-in Pirates of the Carribbean: Dead Men Tell No Lies
The cast of 'Inferno' based on the Dan Brown novel has been announced, and includes Tom Hanks-returning as lead Robert Langdon. He is joined by 'Theory of Everything' actress Felicity Jones, as well as Omar Sy, Irrfan Khan and Sidse Babett Knudsen
'Firefly' and 'Homeland' actress Morena Baccarin has been cast of the "love interest" (huh?) in the Deadpool film. Though no cast has been announced for the role, Colossus has been confirmed to appear in the film as well
---
Television
Being a cable-less Canadian, I have unfortunately been deprived from seeing 95% of the clips from the SNL40 show that aired this past Sunday, aside from the amazing Celebrity Jeopardy return. Nonetheless, the turnout of talent was truly incredible. We saw the return of iconic characters such as Sean Connery, Wayne and Garth, Mary Katherine "SUPERSTAR!" Gallagher and Debbie Downer.
SNL themselves have flooded their Facebook and Instagram accounts with fantastic clips and backstage photos of the star studded cast and what they did. Listen to Ed Norton share his thoughts on his awesome sketch with the incomparable Bill Hader.
---
The Geekend Roundup is brought to you in partnership with Buddy Critic. Check us out on Facebook and join our little community!